Let's take a look at Foundry Businesses of Taiwan Semiconductor And Samsung Electronics
In my January 10, 2020, Seeking Alpha article entitled "TSMC: My Top Pick For 2020 As It Transforms The Semiconductor Market," I noted in my bullets:
Taiwan Semiconductor is the world's largest foundry for making ICs for fabless semiconductor companies, manufacturing 10,436 different products using 261 distinct technologies for 481 different customers.

TSMC is the largest spender among the semiconductor foundries, representing 73.4% of all capex in 2019, which enables the company to purchase state-of-the-art manufacturing equipment.

TSMC is the technology leader at the 7nm node and the leader in utilizing EUV lithography for chip-making.
The dynamics of the foundry market has changed since then because of 1) COVID-19 and 2) U.S. Government sanctions against Huawei and its ramifications on Taiwan Semiconductor (NYSE:TSM) and China's foundry SMIC (OTCQX:SMICY).
This article discusses the current state of the foundry business, focusing on TSMC and the impact of the new foundry positioning, as well as the impact of Samsung Electronics' (OTC:SSNLF) efforts to increase its market share by introducing <7nm technology and increasing its customer base.
TSMC vs Samsung Investments
Table 1 shows semiconductor capex spend for TSMC and Samsung from 2010 through 2019 and my estimates for 2020 and 2021. For 2020, Samsung's capex is estimated to grow 27.7% YoY and will represent a 24.4% share of the global capex spend. For the period 2010 through 2019, capex spend increased at a CAGR (compound annual growth rate) of just 6.2%. But that is estimated to increase to 10.7% over the next two years.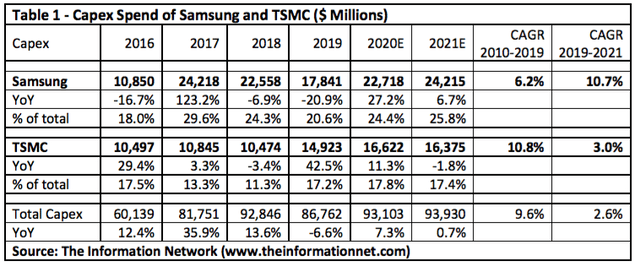 It is important to recognize that Samsung's capex is largely influenced by memory spend, and the 123.2% increase in capex spend (Table 1) in 2017 is responsible for the memory problems the company is now facing. I discussed this in an August 24, 2020, Seeking Alpha article entitled "Micron Technology's Troubles: It's The Company Not The Economy."
These capex investments have propelled TSMC to dominate the global foundry business with a 57% market share 2020. Samsung is a distant second with a 15% share. By way of reference, in 2015, TSMC held a 52% share, while Samsung's share was just 6%.
Foundry Capacity
By technology, Samsung's foundry business derives around 20% of sales from 5-7 nm chips, 20% from 10 nm chips, 21-23% from 14 nm chips, and around 40% from legacy processes. By comparison, TSMC derived 36% of sales from 7nm and below in 2Q 2020.
TSMC has a total capacity of 1 million 300mm wafers per month compared to less than 400,000 for Samsung, as shown in Chart 1.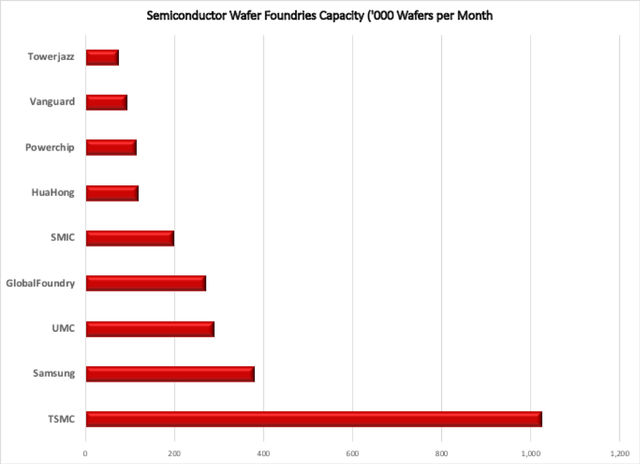 Chart 2 shows TSMC's capacity and shipments between Q1 2019 and Q3 2020. During the slowdown in the global semiconductor market in 1H 2019, TSMC's capacity utilization was below 85%. As the industry recovered in 2H 2019, capacity utilization increased to 100%, and in fact, during the COVID-19 lockdowns, capacity utilization was above 100% in 1H 2020.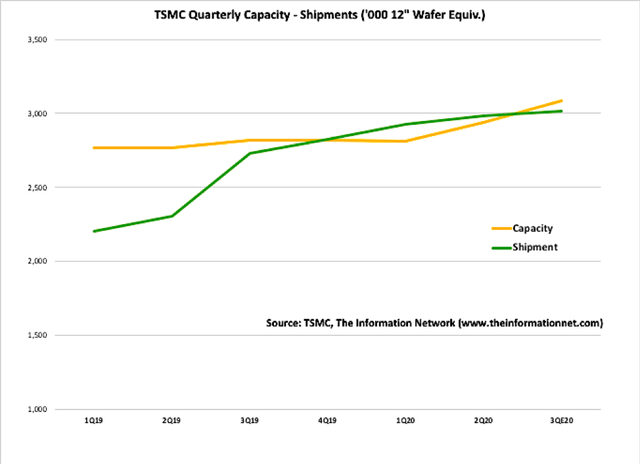 EUV Capabilities
A key factor in moving to smaller dimensions, and hence gaining customers and market shares, is EUV lithography implementation. I've written numerous articles on this technology coming from ASML (ASML), and subscribers can read my Marketplace article of June 15, 2020, entitled "ASML: Not Just A Monopoly In EUV Lithography" for more insight.
According to our report entitled "Sub-100nm Lithography, Market Analysis and Strategic Issues," both TSMC and Samsung were earlier purchasers of EUV lithography systems, each making one purchase in 2015 and 2016.
TSMC ramped up purchases starting in 2017, so that, through 2020, I estimate TSMC will have 34 systems installed. Samsung will have just 19 systems installed, as shown in Table 2.

Investor Takeaway
TSMC and Samsung Electronics are in a race to make the most chips with the smallest dimensions for fabless (and even some companies with a fab such as Intel (INTC)). Currently, TSMC is ahead with a dominant market share and Samsung's later start in initiating a foundry service. TSMC has also led in capex spend to expand its foundry business. That is changing as Samsung plans to increase its capacity and technical capabilities at the <7nm node.
From an investor standpoint, TSMC is the only play in my opinion and stays my number one investment in the semiconductor sector. SMIC has the ability to make chips close to the 7nm node for Chinese (another) customers such as China's Huawei, which I discussed in a July 17, 2020, Seeking Alpha article entitled "China: Who Needs TSMC When They Have SMIC." SMIC is still a favorite stock of mine and is oversold. The sanctions against SMIC are only under consideration, and now may be a buying opportunity.
Taiwan Semiconductor is the de facto foundry company, holding a 57% share in 2020 compared to 15% for Samsung Electronics.
TSMC's revenue growth between Q1 2019 and Q3 2020 was 60.2% compared to 34.9% for Samsung's foundry sector.
TSMC receives $3,400 per completed silicon wafer compared to $2,500 for Samsung because of advantages in <7nm nodes capacity.
A key factor is EUV purchases, and TSMC has 34 systems ordered from ASML through 2020 compared to 19 for Samsung.
---
Sandesh Ilhe
With an Engineers degree in Advanced Database Management and Information Security, Sandesh brings the deep understanding of the digital world to the table. His articles reflect the challenges and the complexities that come along with every disruption in the industry. He carries over six years of experience on working with websites and ensuring that the right article reaches the right reader.
---